IF SOLUTION


With inspiration from the Open Source Hardware Association (OSHWA), I began to think about a way to get the right design for the media and technology in the Image Field, the IF Solution, which stands for Image Field Solution and consists of a number of features proposed in Image Field project. IF Solution means "the solution of the medium". IF Solution is to place the design and optimization of media and technologies carried out in Image Field in a co-creative platform that is not o

nly my responsibility, but also accessible to different participants. Here I refer to the concept of Latour's project

http://modesofexistence.org/. It establishes the research project as a media platform rather than a closed working group, so that the institution of a project becomes a mediated institution.

Given that the field of art increasingly draws resources from the public outside of institutions, here I will examine two models for connecting with public resources. The first is the crowdfunding model, in which funds are raised from the public and participants are given commodities in return. It takes advantage of the nature of the Internet, which allows artists and project teams to have a high degree of freedom to envision their initial project or product while receiving financial assistance from an interested audience, reducing the risks and costs of production. The second is the crowdsourcing model, which, according to its initiator Jeff Howe, is defined as "the practice by which a company or organization outsources tasks previously performed by its employees to a non-specific (and often large) mass network of people on a voluntary basis". Crowdsourcing allows a company or organization to optimize its management by delegating some of its specialized or piecemeal work to outside professional resources or the general public. Crowdsourcing allows a company or agency to optimize management, delegate some specialized or piecemeal work to specialized resources outside the company or to the general public, and be able to call on more outside creative and development staff on certain projects, reducing the pressure on internal development. Both models can be a way for an agency to get resources from the public, although the resources are different, and they have one thing in common: they are both unidirectional for the participants. The institution is not open, it proposes a project, and the participants, for the sake of goods or rewards, only follow the predetermined path of the institution. This is obviously not the case with IF Solution.

The open platform of the Internet seems to be effectively shaping a new paradigm of institutions with its participants. Such a model seems to be able to break down the opaque nature of institutions, turning them into nodes of connection and communication by taking advantage of online media platforms. And without the limitation of geographical location, participants from different geographical locations can reach this node without restriction, which allows cultural and technological barriers to be broken down. So, in combination with Latour's project and the nextmuseum, a vision for an IF Solution was mapped out: an open Internet platform, more free and effective participation, and more diverse communication. Working collaboratively via the Internet, Roy Ascott had already made the following prediction in the 1980s9: Telematique is a decentralising medium; its metaphor is that of a web or net in which there is no centre, or hierarchy, no top nor bottom. It breaks the boundaries not only of the insular individual but of institutions, territories and time zones. To engage in telematic communication is to be at once everywhere and nowhere. In this it is subversive. It subverts the idea of authorship bound up within the solitary individual. It subverts the idea of individual ownership of the works of imagination. It replaces the bricks and mortar of institutions of culture and learning with an invisible college and a floating museum the reach of which is always expanding to include new possibilities of mind and new intimations of reality.

When working on a project in Image Field in the future, IF Solution will also start working together, bringing together participants from different fields and different mediums to discuss and solve any issues of concern that may arise from the project's topic. IF Solution is a platform virtual space to bring media practices to the Image Field, but it is also an open platform, so that practices can be applied not only to Image Field, but to any other area. A web-based, open platform that involves aspects such as websites, apps, etc.; an offline, open platform that involves aspects such as workshops, seminars, etc..















Workflow of IF Soluti
IF SOLUTION WORKFLOW
*The platform is
under construction...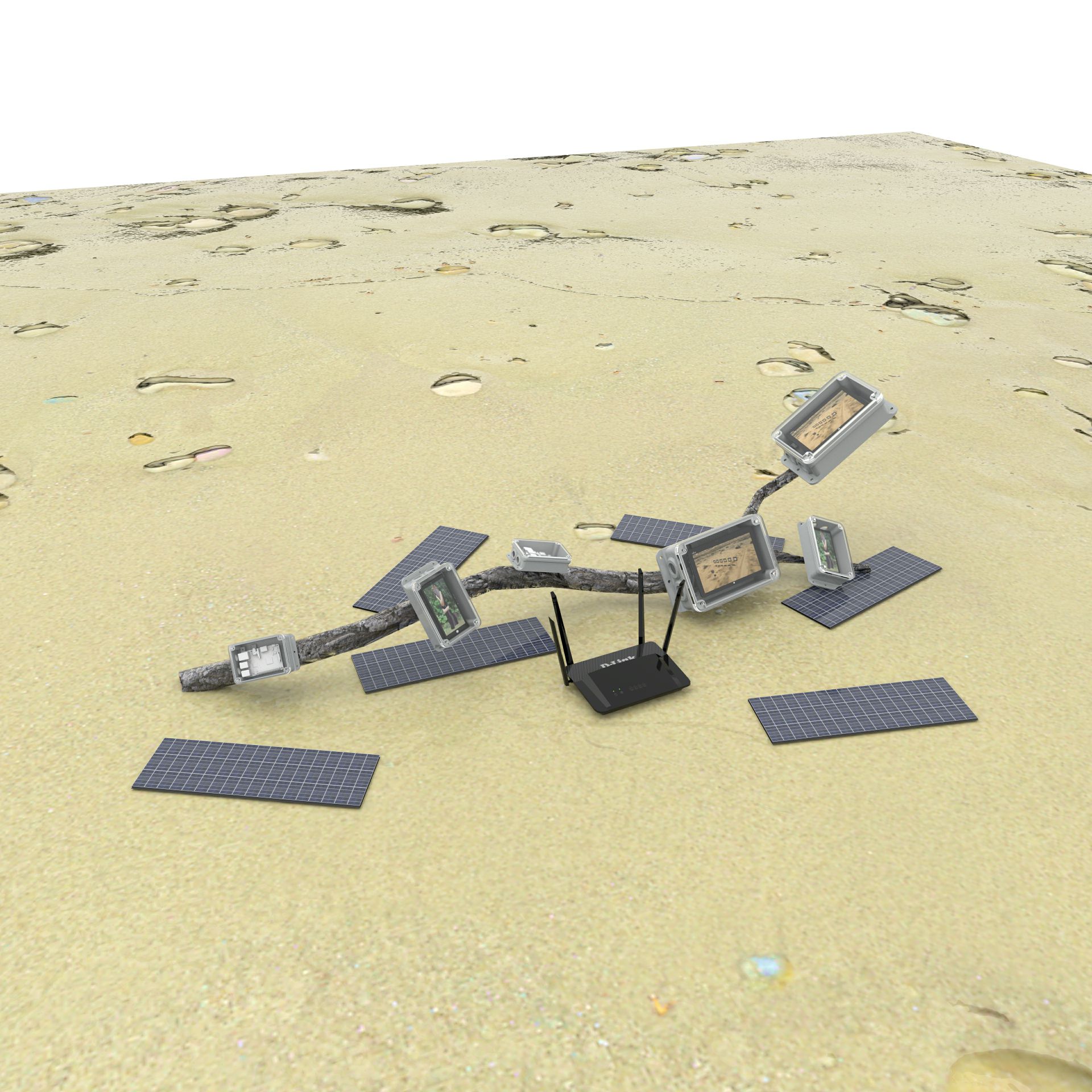 dust- and waterproof screen, Raspberry Pi with waterproof case and cellular module, player based on Raspberry Pi, solar panel, multi-panel video, variable size, video looping, 2020
Oasiscreen – Desert Monitoring

LCD screen, waterproof metal box with glass, Raspberry Pi with waterproof case, cellular module and camera module, player based on Raspberry Pi, solar panel, multi-panel video, variable size, video looping, 2020
Oasiscreen - 8PFRWCF6+J2

LCD screen, media player embedded on screen, flash drive, solar panel, artificial grass, small sand dune, multi-panel video, variable size, video looping, 2020
All Content © 2020-2021 Image Field